MONO PAUSE / NEUNG PHAK GOODS

This page also serves as a discography of sorts. Extremely limited/one-off items may or may not be missing.

VINYL - CD/CD-R - CASSETTES - CLOTHING
VINYL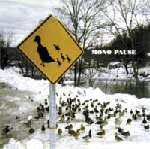 PEEPING THROUGH THE LISTEN HOLE
LP (Electro Motive Records)
Released in 1999, this third full-length foray is a years-in-the-(re)making, highly eccentric platter which encapsulates the first six years of Pause-thought and presents no unifying thread to follow whatsoever. Music of a most namblient fashion, this album finds upbeat compositions such as "Openly Closed" nestling up against found-inside-plastic-organ voice cassette manipulation ("At the End of Yours"), an Assyrian pop cover tune, repressed memories of "The Ghost and Mr. Chicken", binaurally-recorded enviro-mentation ("Ballet Ethioblique"), and improvised no-core ("Preceding/The Thoughts Were Being Removed From the Duck's Head"). "..it serves more as a sampler of the many moods of Mono Pause than a definitive document of its sound. Actually, there's no one sound. From a purely musical standpoint, Mono Pause is never boring, if only because the band seems determined to stomp down every path that opens up as it cuts through its own dense audio jungle with sharp humor and demented wit." - SF WEEKLY, 1999
$10.00/USA+CANADA - $15.00/all other countries

NEUNG PHAK (MONO PAUSE) "Fucking USA" 7" EP
(Abduction 31)
When Pyongyang Airlines flight 009 from North Korea landed at San Francisco International Airport, the members of Neung Phak stepped defiantly onto the tarmac, clutching the master tapes for their compelling new single "FUCKING USA", which were rushed to Abduction records for immediate release. This is the first recording ever made by "Americans" in Pyongyang's Kim Studios...and it shows! The extended play B-side features two live recordings from WNUR FM in Evanston, IL: a new version of the Thai classic "Tui Tui Tui", and a journey into experimental pop balladry that is second to none - a radio friendly "Far King USA". This vibrant explosion of color and hatred comes dressed to kill in a beautiful package on the thickest vinyl there is. Neung Phak backsides the forefront once again! (Edition of 300 copies, thick vinyl, and full color picture sleeve!)
SOLD OUT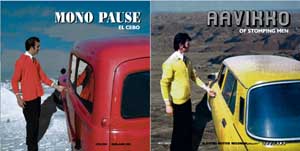 MONO PAUSE / AAVIKKO "El Cebo b/w Of Stomping Men"
7" split single (Electro Motive Records/Seeland)
To celebrate their 2002 "International Cooperation Tour" together of the western USA, Mono Pause teamed up with brilliant Finnish trio
Aavikko
for a split 7", wherein each band covers a song by the other. Mono Pause chose "El Cebo" from Aavikko's 1997 super-LP,
Derek!
(on the Bad Vugum label), entirely re-working the arrangement into a typically Pause-damaged hybrid of approaches. Aavikko, for their part, grabbed "Of Stomping Men" from the
Peeping Through the Listen Hole
LP and ran with it... far in another direction. So far, in fact, that the discerning listener might think it's not a Mono Pause cover at all, but a different composition entirely.
$4.50/USA+CANADA - $6.00/all other countries

VARIOUS ARTISTS
- KNORMALITIES, VOL.1
7" (Dephine Knormal Musik)
Ambitious and crazed maxi-length compilation 7" record finding Mono Pause's vinyl debut, "Brief Lallation", alongside out-groups
Ruins, Flying Luttenbachers, Melt-banana, The Molecules, Vacuum Tree Head, and Moe! Staiano
(who's DKM label issued this 1998 disc). Every contribution is quite outrageous (including Ruins' infamous "Prog Rock Medley"). A 1000-copy limited edition.

$4.50/USA+CANADA - $5.50/all other countries








CD and CD-R



NEUNG PHAK (MONO PAUSE)
CD (Abduction 25)
Alter-ego NEUNG PHAK creates and reprocesses musics from Thailand, Vietnam, Cambodia, Laos, Taiwan and West Oakland on their debut full-length release of 2003. 50 minutes of high-energy sounds as brought to the world via Seattle's Abduction label... from "radio hits" to Thai "morlam" psyche-improv and back, but minus the cost of the air fare. Off-world music.
$13.00/USA+CANADA, $14.50 ALL OTHER COUNTRIES




VARIOUS ARTISTS
AMERICA THE BEAUTIFUL
2-CD SET (RRRecords)
Very first missive sent forth by Mono Pause was found on this now-deleted 1993 double CD from RRRecords (which has the dubious distinction of listing a submitted track by the group Negativland... but it's not by Negativland at all). "Come Into The Future" is a melancholy, all-tape-sourced tune created in large part from the sounds of a 1937 World's Fair promotional film. This cut is not currently available elsewhere.
OUT OF PRINT




SET THE CONTROLS FOR THE HEAD OF THE DUCK
CD-R (Qualipy)
An entirely improvised, monaural photo-cosmic seascape, this playful and primitive release highlights a fertile period of spontaneity for Mono Pause. An "official debut" recorded in almost-unedited sessions in 1995 and 1996 on a room-full of instruments and devices. Foamy squalls, drones, and lots of bumpy textures to run fingers across. Originally issued on cassette in 1996, this CD-R edition adds a strange and spontaneous 1997 live performance in stereo by a Pause-trio configuration for an audience of two uninvited guests who happened across the studio during a rehearsal.
$8.00/USA+CANADA - $10.00/all other countries



THE TWELVE STEPPES
DEEP NORTH CD and accompanying read-along magazine (PorestSound)
Two brothers, known as The Twelve Steppes (Gergis M and Gergis E of Mono Pause) made a pilgrimage to a suburb of Detroit, Michigan to visit family and eke out a living in the dead of winter. From their experiences came this amazing 1997 diary/rant/observation in sound and read-along magazine form. Mono Pause contributes several pieces of music to this melange of cut-ups and songs, intricately-designed with much use of "field recordings" from the suburbs. A dadaist ethnographic commentary on middle-U.S. society and culture, complete with regional meal recipes.
$11.00/USA+CANADA - $13/all other countries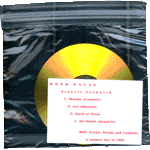 STUART'S SANDWICH
CD-R (Qualipy)
Only available as a non-announced bonus inside the first twenty or thirty copies distributed of the
Peeping Through the Listen Hole
LP (though orders of the LP placed through this web site may very well still include it). A slightly edited improvised live recording from 1995 divided into four bite-sized chunks and packaged inside a hermetically-sealed sandwich bag to retard spoilage and maintain flavour.


NOT PACKAGED FOR INDIVIDUAL SALE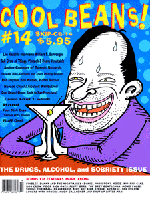 VARIOUS ARTISTS
COOL BEANS!
#14 magazine w/
INTOXICATION COMPILATION
CD
Mono Pause's 2001 contribution to this issue of Cool Beans! magazine was composed for the project. "Discs and Lisps (1982 version)" doesn't seem to jibe with anything at all in Mono Pause's recorded history and incited violence against band members in many cities on the 2002 tour.
$6.00/USA+CANADA (other countries, see note on Cool Beans! web site)






VARIOUS ARTISTS
AZADI!
2-CD SET (Fire Museum/Electro Motive Records)
Mono Pause emits two contributions to this fine benefit CD set. "Why Am I In Life?" is the band's premiere recording done entirely in German, in an attempt to tap into the burgeoning Alt-Deutschland scene. It is a re-recording of "Why Did You Create Me?" from the upcoming
Same Zero in the Face
Mono Pause album. "Look Thong 8" is an extremely miniaturized example of the Thai Look Thong genre, as rendered by
Neung Phak
.

$13.00/USA+CANADA, $14.50 ALL OTHER COUNTRIES




VARIOUS ARTISTS
LULLABIES FOR TOYWAR
CD (Etoy)
When brilliant Swiss art-situationists
Etoy
were slapped with a ludicrous trademark infringement lawsuit by the now-defunct on-line retailer Etoys.com in 1998, a bunch of groups and musicians jumped to contribute tracks to this CD, which was sold to help defray Etoy's legal fees. Mono Pause's contribution is "At The End of Yours" (same version found on the
Peeping Through the Listen Hole
LP). Pause members Porest and The Jet Black Hair People also contributed cuts. The entire theme of the record is "children's lullabies", rather loosely defined.
$13.00/USA+CANADA, $14.50 ALL OTHER COUNTRIES








CASSETTES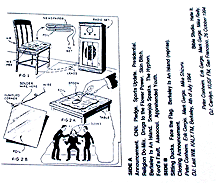 HEARING RADIO THROUGH YOUR TEETH
(Qualipy)
A glimpse at some of the earliest-known recordings of the group. The bulk of the cassette is edited from the first Mono Pause live radio performance, done on the fourth of July of 1994 on Berkeley, CA's KALX FM. A heavily source-tape based set features a live broadcast of Ronald Reagan's second attempted assassination, John Wayne rubbing shoulders with Libertarian zealots, police intervention, the real CNN news theme and much more/less. Excerpts from a follow-up performance on San Francisco's all-Jesuit KUSF FM and a wrap-around multi-receiver sound interception round it out.

$5.00/USA+CANADA - $7.00/all other countries



ANNEX TO IDEA CASSETTE
(Qualipy)
Debut release originally handed out to friends of the band in 1994, this cassette attempted to round up the "highlights" of the first year of the group and contains the earliest documented versions of material which would surface on future releases, a pattern which continues to this day. Pause will eat itself and often does. This tape was withdrawn from circulation and hasn't surfaced in a long, long time. It may not be purchased or bartered for though an early copy was once spotted on a popular auction web site with bids in excess of $1,400.

OUT OF PRINT



CLOTHING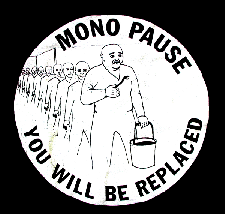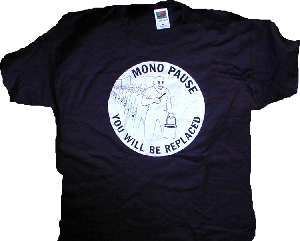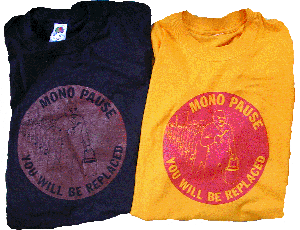 YOU WILL BE REPLACED t-shirt

Originally made for the International Cooperation Tour of 2002, this "fork and a bucket" design on heavy 100% cotton depicts rotund everyman being menaced (?) by a malevolent chorus line of identical eunuchs.
Black shirt with white design (Large or X-Large)
Black shirt with red design (SOLD OUT)
Goldenrod shirt with red design (Large or X-Large)
Please specify design and size when ordering.
$10.00/USA+CANADA - $14.00/ALL OTHER COUNTRIES