金陵乌嘴鸭是南京市畜牧家禽科学研究所应用现代科学技术对中国稀有药用鸭种进行选育,并由野鸭杂交而成的,其特征是:乌嘴,白羽,体形秀美,成年体重不超过1.5公斤,它是国内唯一的集药用,保健,膳食为一体的特色鸭种。

  金陵乌嘴鸭口味独特,十分鲜美,营养丰富,乃鸭中极品,含有17种人体必需的氨基酸和10种微量元素,曾是皇宫贡品。
  
  早在元代《十药神书》中就有应用乌嘴鸭全鸭作为保健食品的记载:该鸭可"固真元,全根本,具有补髓,生精,和血,顺气"之效,能"治一切大痨大怯极虚甚备。"
  
  用现在意思表达既具有宁神开窍,养颜补肾等作用,可作为肝炎,无名高热,麻疹等病的辅助食物治疗从鸭体内提炼出的产品,对男性性功能低下,妇女更年期综合症有治疗作用。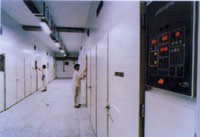 该鸭以炖汤最好,切块或整只放入砂锅,加冷水适量,一般一只鸭配以2.5斤水,旺火烧开,再以炆火煨之2小时左右,然后放入食盐,无需在放其它佐料。
  
  我所已建有相当规模的金陵乌嘴鸭种鸭场和呀产品加工厂,可批量向广大养殖单位和农户提供优质鸭苗,同时可向社会提供商品鸭和加工产品。

  欢迎有识之士前来洽谈,投资,合作,订货。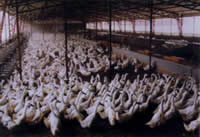 Jin-Ling black-beaked duck is bred by Nanjing Livestock and Poultry Research Institute with modernscience and technology.

  As a hylrid between the rare medical duck seeds of China and the wild ducks,it is famous for its black beak,white feather and beautiful figure. Agrown-up duck weighs less than 1.5kilograms.

  It is the unique kind in China that combines the function of medicine,health protection andfood into one.
  Jin-Ling black-beaked duck is of original and delicious taste. With the 17 types of amino acids and 10 types of trace elements,it also has rish nutrition.
  In ancient times,the duck was devoted to emperors.According to the "Medical Food Book",in Yuan Dynasty, the black-beaked duck was used as medical food .
  It is said that this duck can help to relax the nerves, beautiful the countenance, and protect one's liver , spleen stomach,and nates.
  It can be used as the auxiliaty medicine for preventing oicpeness such as hepatitis, unkownfever,measles and so on .
It can also anchor your vim, keep your energy nourish your marrow , accelorate your circulation of blood, and make you stronger and cleverthan beforce.
  The refined product from the duck is useful for male's impotence and female's synthenic symptom of monopause.
  The duck tastes best when it is stewed .Cut the duck into pieces or put the whole one into the earthenware pot , and add some cool water .(It is better to add 1.25 kilograms of water for one duck.)
  Heat the duck with big fire until it boils, tthen stew it with small fire for 2 hour or so. The only necessary seasoning is salt. Our institute has set up Jin-Ling black-beaked duck farms and further processing factoriesw of wide scale.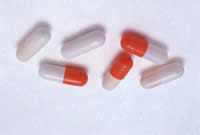 They can provide all the breeding units and clienteles with perfect ducking in batches, and ducks of goods and and processed products.
 
  We hope that friends from all over the world would come to negotiate, invest, order and cooperatr with us.